Introduction
This policy concerns the use of cookies when users visit the FROIKA DermoCosmetics website (hereinafter FROIKA or Company), https://froika.com/
The Company website uses Cookies with the aim of improving the efficiency of use of the website, as well as to personalize the browsing experience for the end user.
By browsing the website, the user agrees to the use of cookies in accordance with this Policy, which constitutes an extension of the information message (banner) for the use of the cookies, which appears when the user logs in for the first time on the home page of the website of the Company.
Cookies are small data files that are placed on your computer or on other devices (smartphones, tablets) to the end user during the browsing on the website, in order each time the user logs on to the website, the latter to be able to retrieve that information and to provide the user a more efficient navigation.
Categories Of Cookies
Necessary Cookies: certain cookies are necessary for the functioning of the website of the Company and allow the user to move around the website and use the services and functions of the. In case of deactivation of the necessary cookies, the user may not have full access to all the content of this website.
Third Party Cookies: The website uses Google Analytics to collect anonymous information, such as the number of visitors to the site, and the most popular pages. The conservation of this class of cookies helps us to improve our website.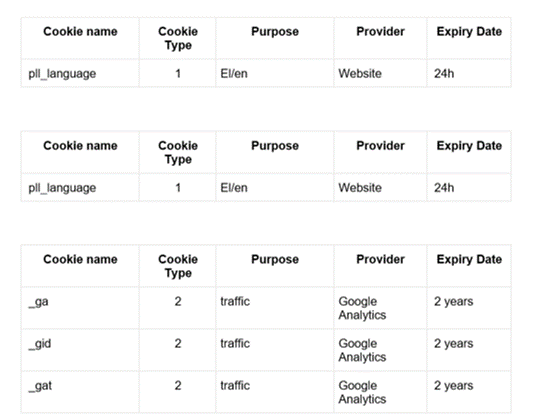 Disabling Cookies
You have the option to disable Cookies by changing the relevant settings in your browser. However, the site may not work properly if all cookies are disabled. If you only disable third party cookies, will not εμποδίζεστε by browsing on our website. Select the type of the browser and click on the corresponding link to receive further information about how to disable and delete cookies:Internet Explorer (or MS Egde)
Firefox
Safari
Google Chrome
For other browsers which are not listed here, please contact the provider of the programme concerned, or alternatively search for a mode of "help" in the browser.